Meet the Teachers

 Joel Laviolette, Artistic Director
Click on the photo to see a video interview with Joel
Joel began his musical journey in 1984 when he first picked up his dad's acoustic guitar and learned an A minor chord. 10 years later, in Taos, NM (in the right place at the right time) Joel first heard the mbira. His life was immediately changed and he knew that this was the instrument he was destined to play.
In 1998, Joel realized he needed to go to the source of the mbira-Zimbabwe. While there, he met his primary teacher, Newton Gwara, and began a lifelong journey studying this style of music. He came back to the US briefly, and then returned to Zimbabwe from 1999-2001. During that time, Joel traveled throughout Zimbabwe meeting musicians, playing ceremonies and talking to musicians that were interested in recording. He came to record many groups and types of mbira. These included the ChiSanza, Munyonga, Nyunga-Nyunga, Njari, Dongonda (njari neMakonde), mbira orchestra, Matepe, Nyanga (panpipes), Mbira DzaVaNdau, as well as several of the players of the Mbira DzaVaDzimu. The fruits of those recordings can be seen and heard on Mhumhi Records, Joel's non-profit record label. In 2006, Joel moved to Austin and formed the group Rattletree. Community interest in the music quickly grew and Joel began teaching weekly marimba classes at his house. The living room and dining room became classrooms as more and more students became interested in the music.
In January of 2013, Joel started the Rattletree School of Marimba in the current location. He is so happy to see the community and love of this amazing music grow.
Joel has been recognized in national publications including Percussive Arts Magazine, on NPR, and has been invited to lecture and perform at many Universities across the world such at Gottingen University in Germany. He has taught workshops and performed across the US, Canada, Europe, and Africa. Joel has released four albums and an interactive instructional DVD, produced eleven albums of traditional music on the Mhumhi record label, and built dozens of marimbas for institutions as diverse as the Santa Fe Symphony to the Texas School for the Blind.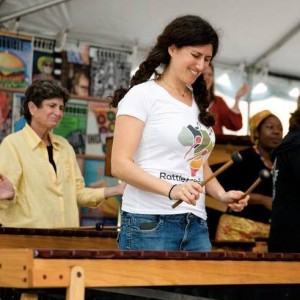 Rakefet Laviolette, Program Director
Click on the photo to see an interview with Rakefet
Rakefet joined the School in 2013 following a successful 10 year career in non-profits and higher education in New York City and San Francisco. She discovered the music during SXSW when she saw Rattletree play a World Music Showcase. While she had no idea what a marimba was or where exactly Zimbabwe is, she knew that it was special.
Rakefet's mission is to build the marimba community through performance, education and parties!  In addition to her work at the School, Rakefet serves as the Booking Agent and PR/Marketing Director for Rattletree.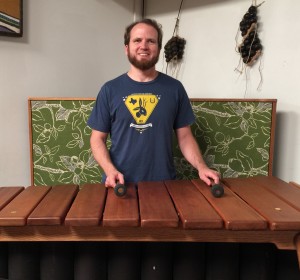 Mike Hardin, Instructor
Like Rakefet, he first discovered Rattletree during SXSW where he was a volunteer.  That night Mike won Rattletree's CD raffle.  He also got marimba fever and danced up a sweat. Mike has been a life long lover and student of music from a young age.  He plays in Kupira Marimba and Rattletree.  Mike is happiest in a place full of people working together to create beautiful music.