Festivals, Schools, City Events, Weddings, & Private Parties!
Kupira Marimba at the Austin Earth Day Festival. Click below for a video.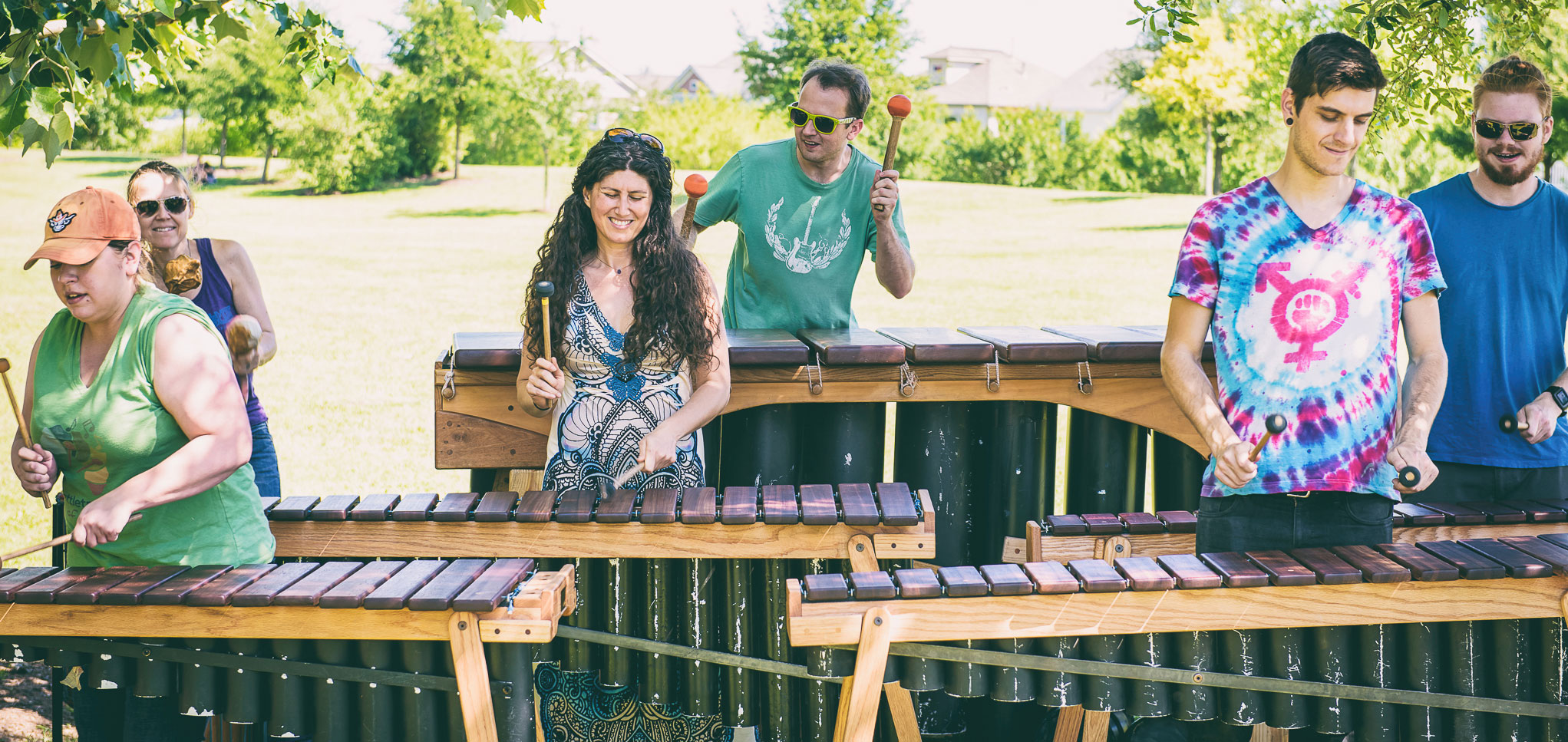 Kupira Marimba's high-energy joyful music is a foot stomping, heart pounding, hand clapping experience for the whole family.  Their performance highlights include Austin City Limits Festival, Utopia Fest, Sunset Valley Arts Fest, Cedar Hill Juneteenth Festival, Long Center for the Performing Arts, Levitt Pavilion, Austin Earth Day Festival, Masterworks Concert Series, and many private celebrations.
Educational Offerings
"If you can walk you can dance. If you can talk you can sing." (Zimbabwean Proverb)
In Zimbabwe, music is an important aspect of everyday life. There is no separation between performer and audience. We bring this holistic musical understanding to workshops and performances, tailoring instruction to any skill level. We work with students of all ages and musical backgrounds - from kindergarten to Ph.D. students, and professional musicians.
Our programs are tailored to the needs of each presenter, and compliment STARR and TEKS requirements by introducing music vocabulary, authentic instruments, history, geography and culture.
Sample Workshop:
A typical workshop consists of a 30-45 minute interactive discussion about traditional Zimbabwean instruments - what they are, how they are played, and most importantly, how to actively listen to the music.

The discussion may be followed by a hands-on workshop. We will guide the students through an exploration a traditional Shona music on the marimbas. At the conclusion of the workshop, the participants will be able to play a song together.

This hands-on workshop may be followed by a community performance. Rattletree Marimba will perform a 1 hour high-energy concert, culminating in a performance with the band accompanied by the workshop participants. The entire audience is invited to participate with clapping, singing, and dancing.
Sample Performance:
Students and teachers are invited on a 45 minute exploration of Zimbabwean music and culture. Rattletree's high-energy, interactive show gets everyone dancing, learning about traditional instruments, clapping, singing-along, and asking questions. Performances are appropriate for students of all ages.
Testimonials
"We have had a lot of great assemblies over the years, but none as dynamic, full of energy and engaging as the Rattletree School of Marimba."
- Brad Wirht
Principal, Bridge Point Elementary
"Joel expertly conveys the spiritual/historical, theoretical, and technical concepts of Zimbabwean music while tailoring his instruction specifically for classically trained music students."
- Dr. John Lane
Director of Percussion Studies, Sam Houston State University
"Our students felt a connection with everything you did, and have been talking about discovering MUSIC again. That is a gift to them that I can never repay you for."
- Dr. Gary Westbrook
Director of Athletic Bands, Tarleton State University
"Joy! If there is a single word that can be used to describe a room of children enjoying Marimba music, it has to be joy. The joy on their faces was contagious, the movement of their feet was captivating, and their laughter was sublime. The parents, staff, and children at Forest Trail were fortunate to enjoy a performance by Rattletree School of Marimba and it was an experience of a lifetime. I hope that all students are able to witness and learn this wonderful style of music. Their presentation is a gift."
- Kara Brown
Teacher, Forest Trail Elementary
Bio
African music is about coming together as a community and making music!  In fact, there is a saying from Zimbabwe that says "If you can walk, you can dance.  If you can talk, you can sing!"

The Rattletree School of Marimba brings a high-energy, interactive African musical experience to students across Texas. Founder and Artistic Director, Joel Laviolette aka. Mr. Rattletree teaches community classes, hand-builds the giant instruments, directs several bands, and has taught Zimbabwean music internationally for over 25 years.  His passion took him to Zimbabwe where he lived for two years-studying with and recording many of the masters of this music.  Laviolette is a leading authority on Shona music and been featured as a guest on NPR and Jimmy Kimmel Live.  He serves on the World Music Panel of PASIC (Percussive Arts Society), and has been featured in Percussive Notes, as well as several academic journals. Laviolette has released four albums, an instructional DVD, and produced and recorded eleven albums of traditional music for his non-profit record label, Mhumhi Records.  He is happiest seeing the joy on students' and teachers' faces when they first get to experience this beautiful and uplifting music.